For Sale
Please feel free to contact us directly to see what we have available. Many times we have horses in that are not advertised on the website or connections to a horse that may fit what you're looking for.
$0 – $4,999
$5,000 – $9,999
$10,000 +
Grace
17h 5yr Ottb mare. Brought along by a junior rider to the Rrp makeover 2022. Rider has chosen a different path from what grade excels in. She would make a …
Everest
17.1h 7yr Belgian/cross (tb or dutch) gelding. Biggest sweetheart ever! would excel in hunters, eventing or dressage, but also enjoys hacking out and could be a lovely fox hunter. no …
Breeze
16.1h 18yr old Irish sport horse mare. Has all the dressage buttons, but has been at a summer camp the last few years. jumps anything, but on the hotter more …
Tia Maria
the adorable Irish Sport Pony was born on Mother's Day in 2019. By Pairadox Cassanova (Irish Sporthorse stallion with Dutch lines on his dam side) out of a medium paint …
Duncan's Dark Roast
Duncan is a 16.3h 2019 Irish Sport horse colt by Pairadox Cassanova out of a sport bred Thoroughbred mare "London Abbey". Duncan has been well handled and socialized and should …
For Lease
SOLD
Services
| | |
| --- | --- |
| BOARD RATES | |
| Pasture board (includes AM feeding of grain) | $400 |
| Full board shed row stall | $550 |
| Full board main barn with attached run  | $650 |
| Private turnout (additional) * if available | $75 |
| new barn 14×16 stalls | 700 |
| Add ons | |
| Deworming | $25 |
| grooming/session | $10 |
| Handling for vet/farrier | $10 |
| Show clip (face, socks) | $25 |
| Body clip | $150 |
| Blanket cleaning | $50 |
| Longing | $15 |
| Magna wave (per min) | $1 |
| | |
| LEASES | |
| Full time lease on site | $550 |
| Part time lease on site 3x week) | $350 |
| | |
| SHOW RATES | |
| * hotel room will be split Among competitors | |
| Coaching – 1 day show | $100 or $___ per class |
| – event (multi day) | $150 |
| Training ride at show | $100/day |
| XC schooling | $75 |
| Horse rental (per show) | $ |
| braiding | $45 |
| | |
| | |
Training

Horse Training

Training

* Prices do not include the cost of board

$40 – One session per week

$70/wk – Two sessions per week

$90/wk – Three Sessions per week

$100/wk- Four sessions per week (best rate)

$500/month – Young horse training

5-6 training sessions a week for approximately 20+ minutes depending on what is needed for that day.
Started under saddle moving forward in the walk, trot and canter. With a foundation of dressage training your young horse will be ready for any discipline. I will also get them out and exposed to varied terrain, water and trails. We encourage owners to come and attend several sessions with their horse so they can be involved in the process. After the first 60 days your young horse can move into a Full Training program for further training.

All Training packages include the following in addition to the training rides:

Each lesson will be for 45 minutes and rides will be 20-40 depending on what horse needs at that time.
An individual training plan will be discussed to meet owners goals
Lunging, bathing, wrapping, and basic vet care are included at no additional charge for training board on an as needed basis
Worming on the barn schedule
Show preparation, braiding, clipping, mane pulling is not included

Individual training session can be purchased for $40 a ride, with the session lasting upto 45 minutes or as much time is needed for that session.

Boarders in a Training Package may purchase additional training rides for $30 per ride.

Boarders in the Lesson Board program may purchase training rides for $25 per ride.

Danielle is also very capable and enjoys the retraining an off the track thoroughbred (OTTB) or a "problem" horse. More experienced horses are welcome as well for tune up rides or we can help with a particular issue or assist you in moving up a level.

Before any horse comes in for training we will meet with the owner and horse to make sure we set expectations and appropriate goals for the time frame the horse is with us. Other packages can be customized to meet the needs of almost any situation. For more information on our training program, please contact Danielle directly.
Boarding

Board

Boarding your horse at our private facility which rests on 24 private acres of gently rolling pastureland, you can expect a safe and comfortable environment for your horse and peace of mind for you. Our barn is professionally run by our barn manager and owner, Danielle Durette Tursky who makes sure that all of our horses are happy and healthy.

What makes us different from many barns is our attention to detail and our extra effort to keep your horse happy.
We offer full board with large 12×12 stalls, and daily turnout. Horses have fresh water at all times, fed twice daily and are properly cared for by the highest standards.
We feed a custom designed feed, which is an oat-based formula with 12% protein, 10% fat and 12% fiber designed for mature horses in moderate to intense performance and show activities. Rice bran and flaxseed pellets are added to provide increased essential fatty acid content and higher caloric density. Organic trace minerals, yeast culture and added amino acids support optimal muscle function. Only the best for our horses!

Our services include:

Turn out and turn in
Mineral blocks in fields
Use of all facilities – including laundry facility!
Fly mask/blanket changes
Ceiling fans with light fixtures in each stall
We also offer pasture board, with the same standard of care as above but at a discounted price.

Full Board: $550/month main barn $500 shed row

Pasture board: $300/month

Consignment Board

Horses may come to the farm on consignment where a variety of services are offered depending upon your individual specific needs. On average we have sold consignment horses in under 2-3 months. Our service does all the leg-work that is required to complete a sale.

The farm assists buyers in finding the appropriate horse or assists sellers in marketing their horse by making contact with numerous professionals in the sport. 10% commission is due on purchased horses that are brokered by Second Chance Thoroughbreds.

Consignment board is $1000 that entails stabling, feed, handling, grooming, training rides, electronic and hardcopy marketing/advertising, video and photography. Consignment horses will be ridden and trained 5-6 days per week. Owner pays for competitions and schooling fees. Commission fee of 10% is due upon final sale.

Boarding Requirements

1. Each horse before entering the property must show VALID proof that the horse has had a Flu/Rhino/EWT shot within one year, and a Strangles Vaccination within 6 months of arrival. If you cannot show proof of these vaccinations, they will be administered upon arrival and will be billed to the owner on the following vet bill.
2. A current Coggins and Health cert are required as well.
Lessons

Lessons

Danielle works with riders of all ages and levels to safely develop a balanced and independent seat while maintaining a clear communication and harmony with the horse.

Emphasizing the fundamentals of good horsemanship, she helps students create a working relationship with the horse built on trust, understanding, and compassion.

"Developing positive communication and respect between horse and rider creates an atmosphere of success for both of you"

Lessons

Beginner – You will learn and experience everything about horses! As a beginner, you will first learn barn orientation. Knowing how a barn runs is beneficial to a rider, as you will gain competency and confidence in horsemanship, allowing you to be a more independent horse person. Each rider will learn general safety, including safe groundwork and horse handling. Riders will learn to groom and tack their mount, becoming more familiar with the horse and its tack. As a rider, you will learn basic riding position (seat, hands and legs, and what they do!). Riders will learn the horse's gaits and gain confidence to safely steer their horse through the gaits independently. For advanced beginners, trail rides and jumping will be introduced to those who wish to learn.

Intermediate – Riders will be able to care independently for their horse and to understand the reasons for what they are doing. There is a development to a secure and independent seat. Jumping courses, more intricate dressage and cross country jumping are introduced at this level.

Advanced – Rider is competent and experienced riding different mounts with confidence and control. At this level, rider is able to work with trainer in progressing their horse's training and is able to explain the reasoning for their methods. Rider is able to "feel" the horse and adjust properly.

LESSONS (own horse)

$40 Group Lessons

$50 Private Lessons

LESSONS (school horse)

$50 Group Lessons

$60 private lessons

* Lesson packages are available. Please call to discuss.

* * CANCELLATION POLICY: Lessons canceled 24 or more hours before the lesson will not be charged. If lesson is canceled within the 24 hours or a no show, you will be charged. Weather permitting.
Second Chance Thoroughbreds is located on 25 acres of secluded, peaceful farm land.
View from the pasture
Back 2 stalls with private turnout.
Full apartment above barn for working student, barn manager, rental.Beautiful sunset every night!10 miles of trail access150 x 300 sand arena
7 European style stalls with swing-open corner feeder and spring loaded door latches.
Stallions and Breeding Program
17h 5yr Ottb mare. Brought along by a junior rider to the Rrp makeover 2022. Rider has chosen a different path from what grade excels...
Read More "Grace"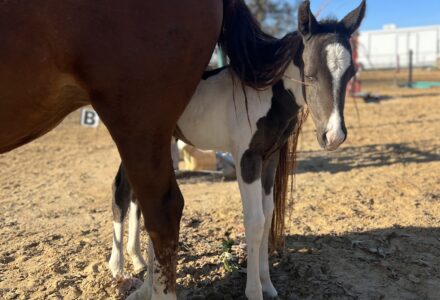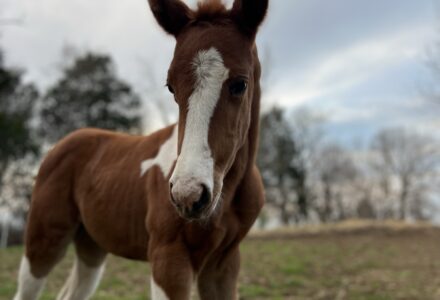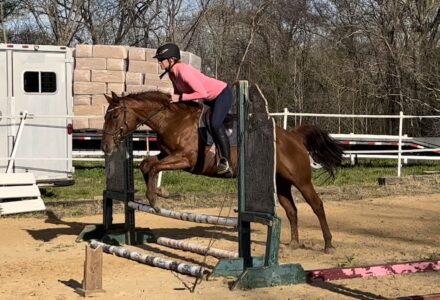 14yr QH horse mare. 14.3h. trail rides, sound, has not had formal jump training but has cute form and would be excellent;ent for an intermediate...
Read More "Ruby Slippers"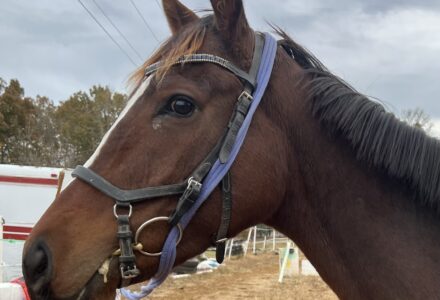 2019 16h mare by Twirling Candy. retired sound. growing, not restarted. would make a nice quiet hunter type.
Read More "Maxine's Candy"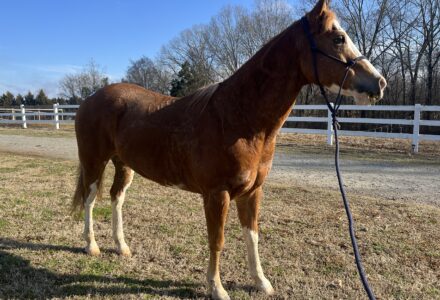 14.3h 7yr paint gelding was western pleasure trained, trail ridden, ponied young horses, safe and sound. most recently converted to English and taught to jump....
Read More "Popcorn"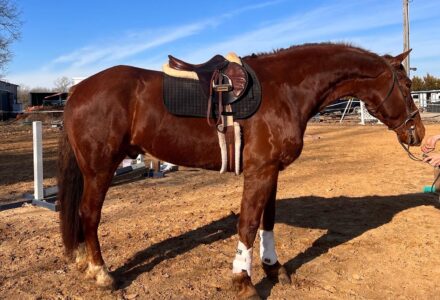 17.1h 7yr Belgian/cross (tb or dutch) gelding. Biggest sweetheart ever! would excel in hunters, eventing or dressage, but also enjoys hacking out and could be...
Read More "Everest"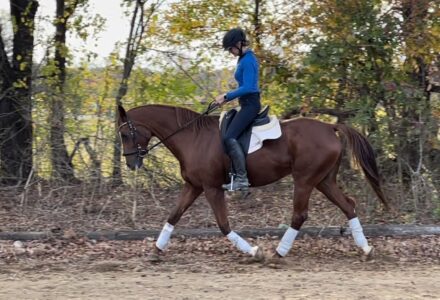 16.1h 18yr old Irish sport horse mare. Has all the dressage buttons, but has been at a summer camp the last few years. jumps anything,...
Read More "Breeze"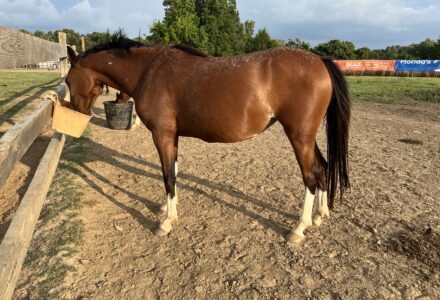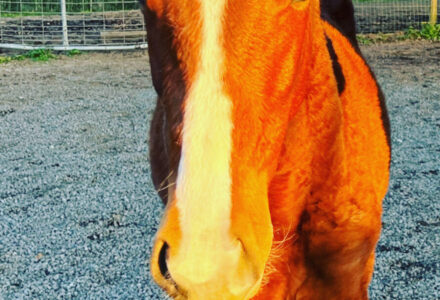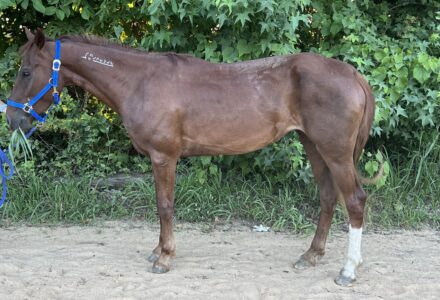 5 year old 14.1 h mustang mare. sweet, gentle, trail broke. learning arena work, but ready to go on trails. knows voice commands, stands on...
Read More "mustang Sally"